Featured Item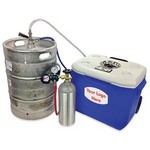 Bottoms Up Beer Unit
Originally only available for large concessionaires at stadiums, now this beer dispensing system is made in a portable Party Cooler version for home and small events such as company picnics, street fa...
$1,100.00 - $1,250.00
Commercial Business Printing Promotional & Premium Items
With new capabilities of:
· Print on demand for smaller quantities.
· Variable data printing.
· Faster Turn-around.
· Better Pricing.
· High quality pixel digital images.
· The machine is able to match PMS colors up to 85% of the PMS Spectrum.
· This means better consistency of ink on letterheads and envelope logo color matching.
· Larger 13" by 26" paper size.
· Prints on stocks up to 350 gsm or 14 point stock.
· Full range of fully automated inline finishing options, including full bleed booklets.
· Ability to run full color envelopes. (No Bleeds).
· 26" (660 mm) banners, polyester/synthetic, textured, colored, custom media and mixed-stock printing.
Isringhaus Printing LLC is a St. Louis Based Union Printing Company. 100% WBE Woman Business Enterprises Certified with the State of Missouri. WBENC Women Business Enterprise National Council. We are committed to Fine Color Commercial printing and serve medium to large businesses. Union for Political Printing. American Made Promotional Branded Giveaways, Union Made Promotional Branded Products. We are dedicated to quality, reliability and customer satisfaction. We offer over 1.1 million items on our website. You can brand awards, promotional items, gifts, corporate wear and more. We are committed to excellent customer service. Take a look at our new 2017 Versant 180 Digital Press with folder for booklets, engineer fold and able to match up to 85% PMS colors for a perfect cohesive stationary package from letterheads and envelopes to your sell sheets, brochures, booklets and flyers.
What Our Customers Are Saying

Isringhaus Printing LLC a WBE and WBENC Union Printing company is a professional and reliable organization for wich our company has called upon time and time again. Isringhaus has met deadlines for bo...